costume designer   jewelry designer   milliner

closing week November 2007
Center Theatre Group

California Plaza, Los Angeles
directed by: Nancy Keystone
scenic design: Kiz Knect

lights by: Heather Graff/Richard Peterson

photographer: Ryan Miller

actors featured: Jesse Borrego, Patrick Breen, Barry Shabaka Henley, Adina Porter Liza Colon-Zayas, Leonardo Nam,

365 DAYS/
365 PLAYS
The first Los Angeles rehearsal didn't materialize until Sunday, when DeLorenzo gathered the cast around a table in the CTG's cavernous Boyle Heights props warehouse. They'd take on the first week's seven date-specific works, along with three "constants" that are being performed throughout the year -- about 20 script pages in all.
"For those of you keeping score," announced DeLorenzo, two pieces into the first read-through, "we've gone from the Bhagavad-Gita to Agamemnon."
Christopher Reynolds la times
cast featured: Ameenah Kaplan, Eileen Galindo

opening week November 2006

Center Theatre Group
Music Center Plaza, Los Angeles

directed by:Bart DeLorenzo

sound: John Gottlieb

photographer: Craig Schwartz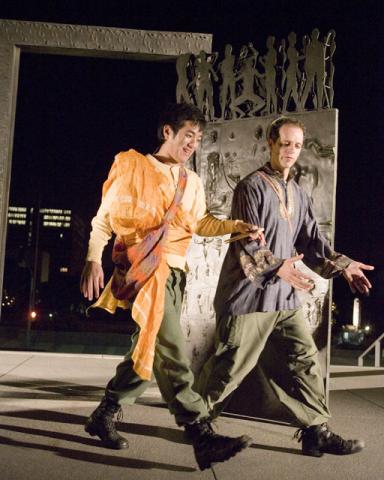 "The grand finale consisted of seven short plays, collectively representing a week, each scene a different tone and mood.  In a play entitled "9-11," actors on stilts repeatedly chanted "nine" white suits to portray the twin towers while other characters metaphorically made their exit via a pool of water surrounding the outdoor stage. It was these creative elements that encouraged the  audience to think abstractly beyond what was presented only on stage. - "
Anastasia Gilbert- LA is the place